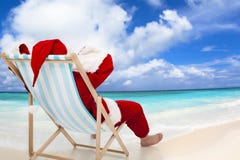 This weekend is Christmas and everywhere you go in Abaco the kids are excited to meet Santa. Every town has their own traditional visit from jolly Saint Nick.
In Cherokee Sound, Santa arrives in his decorated sleigh on Christmas Eve and all of the kids gather around a fresh decorated tree to see who is getting a gift from Santa this year. After the celebration, everyone stops by the community center for a traditional Christmas dinner with the works. In Treasure Cay, on Christmas morning, Santa arrives by boat at Tipsy with gift-stuffed stockings for the children. Man-O-War Cay celebrates on Christmas morning with carolling and a telling of the Christmas story. Afterwards, the kids call for Santa who arrives along with Mrs Claus, who seems to bear a striking resemblance to our Man-O-War agent and her husband. Gifts are handed out and everyone is treated to delicious refreshments afterwards.
Speaking of Man-O-War Cay, Oleander, with itís coconut palms, mango and citrus trees, would make a great family home for years to come. Located within the settlement, you are just minutes away from a nice walk on the beach where you can enjoy the fresh ocean breeze with your family on Christmas Day.
Itís a wonderful time of year to be in Abaco and everyone enjoys an Abaco style Christmas.
So, from all of us here at Coldwell Banker Lightbourn Realty, we hope you have a Happy Holiday and a prosperous New Year!